Artward Bound 2011 is officially underway up in the White Mountains of New Hampshire (and yes, they are quite white with snow despite the steady rain all day on Sunday).
Here's the report from T-shirt refashioning workshop Day 1 (we just finished Day 3, but it's been such a crazybusyfun time that this is the first chance I've gotten to post!). The challenge: 10 days.  -2 degrees outside, with windchill. 32 students. 4 sewing machines.  Hundreds of T-shirts. Can we create two upcycled eco-fashion lines before [cue dramatic music] time. runs. out? You be the judge!
Below, Aiden worked on a shirt covered with pockets (think project #35 "Final Countdown" softie advent calendar from Generation T: Beyond Fashion, only wearable).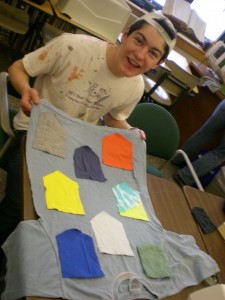 Faculty leader Kathryn made a variation of "Back in Action" (project #101, also from Generation T: Beyond Fashion), applying the technique around the neckband of the shirt (also a variation of the Generation T sewing pattern).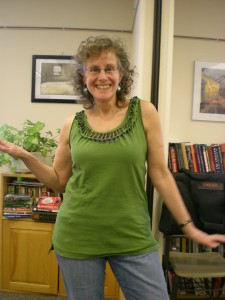 Frances stitched a pocket (refashioned from a yellow T-shirt sleeve) onto the front of a striped T-shirt. Then he used masking tape and fabric spray paint to paint stripes over the pocket to match up with the stripes on the shirt.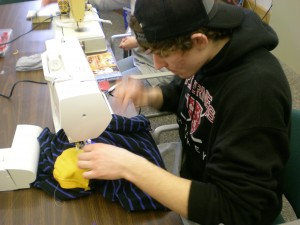 A young seamstress learned the advantages of a seam ripper!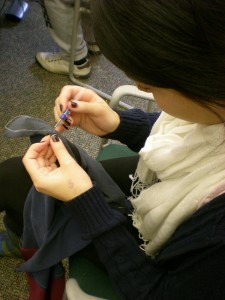 Aiden discovered a duplicate of his own T-shirt in the tee donation pile…to cut or not to cut?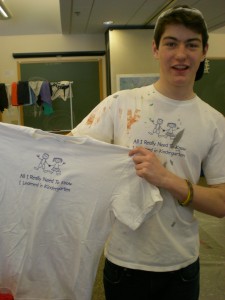 Addie and Libby set out to make two twirly dresses (the "Fun in the Sun" sundress, #20 in Generation T: Beyond Fashion) for warm vacation in two weeks.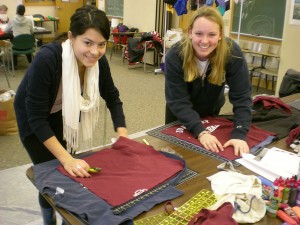 A couple hours later, Addie was done! Well on her way to the catwalk…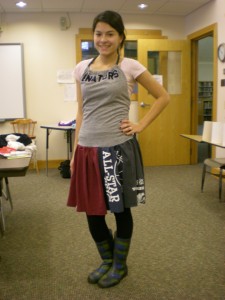 In the evening, we took a break to hang the artist show in the gallery! Among the other artists-in-residence is a glass artist (check out those gorgeous platters and bowls), a mixed media paper artist (leading an altered book workshop), a blacksmith (not pictured are some amazing serving utensils, letter openers, and a door latch), a social media artist, a spoken word poet, a drummer, and a dancer/choreographer.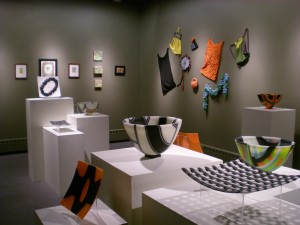 A massive shoutout to iLoveToCreate for the donation of the fabric paints, brushes, and stencils; to Prym Consumer USA for the donation of rotary cutters and cutting mats; to Workman Publishing Co. for the sewing machine loan; and to everyone who dipped into the recesses of their closets to offer up their tired tees for the workshop. Stay tuned, more news and pics to come!
And, if you're still reading: Please note that the time of the bookstore event at Bayswater Bookstore in Center Harbor, NH has changed to 1 pm-3 pm. Hope to see you there!
[ Posted on March 8th, 2011 ]