Books
Generation T: Beyond Fashion: 120 New Ways to Transform a T-Shirt
Megan Nicolay revolutionized the T-shirt. She repurposed it, reinterpreted it, reinvented it—and created the #1 craft book in the nation, Generation T, which continues to dominate. Now she explores new ways to slash a tee, scrunch a tee, and sew a tee with Generation T: Beyond Fashion. A collection of 120 projects for every occasion, it takes the humble yet ever-malleable tee in dozens of new directions—from baby gifts to pet accessories, stuff for the home, the car, the road, the boyfriend.
The rallying cry is: Don't buy; DIY. The result is hip, imaginative, crafty, and very green. There's a basic primer on techniques—knotting, sewing, braiding, lacing—plus a full tutorial on embellishing. And then an amazing range of projects. There's fashion, of course: all-new halters and tank tops, sexy gaucho pants, a baby-doll dress, twisted shrug, and hooded scarf. But also baby gifts: Jumper for Joy, Baby Back Bib, Wild Thing Blankie. Home décor: plant hanger, wine cozy, toilet seat cover, ruffled apron, and Spastic Plastic (grocery tote). Grill mitts and bolo ties for the guys, doggie tee and stuffed cat toys, a steering wheel cover for the car, the Ants Go Marching (picnic blanket), and Beach Bum (beach caddy). Projects range from the simplest no-sew to intermediate, and all have easy-to-follow illustrated directions—plus, how to throw your own Tee Party.
Time to get your craft on.
Generation T: 108 Ways to Transform a T-Shirt
Make it yours. This inspirational guide with DIY attitude has everything you need to know about the world's great T-shirt: how to cut it, sew it, deconstruct it, reconstruct it, and best of all, transform it. Features more than 100 projects (plus 200 variations) for customized tees, tank tops, tube tops, T-skirts—even handbags, a patchwork blanket, iPod cozies, leg warmers, and more. Not a DIY expert? Not to worry. More than one third of the projects are no sew, meaning anyone who can wield a pair of scissors can put a personal stamp on her wardrobe. But the sewing basics are here too: backstitch and whipstitch, gather and ruche, appliqué and drawstrings. And the mission statement for Generation T: Ask not what your T-shirt can do for you; ask what you can do for your T-shirt. And then Do-It-Yourself!
Generation T: 108 Ways to Transform a T-Shirt: Michaels Special Edition
Available only at Michaels craft stores, this edition features ten new designs to pump up the original Generation T. Which adds up to a grand total of 118 ways to transform a T-shirt. After you master the basic T-shirt transformation recipes from the original 108, it's time to start substituting ingredients, mixing and matching. With all the materials and tools that make up the DIY designer's kitchen, the next step is experimenting to find which "flavors" will enhance the fashion feast. The ten additional design projects teach you how to combine T-shirt refashioning techniques to scrumptious effect. Each project is a hybrid design–a "love child"–incorporating two or more of the existing projects.
Operation T-shirt:
108 Ideen, ein T-Shirt zu verwandeln

(German Edition)

Pimp your Shirt! Der superheiße Trend aus New York. Der Sommer steht vor der Tür und der neuste Style für die Saison hängt noch nicht im Schrank? Kein Problem, denn wer wirklich hip sein will braucht keine teuren Klamotten von der Stange. Selbermachen ist angesagt. Megan Nicolay zeigt, wie man aus einem langweiligen T-Shirt ruckzuck ein superheißes Teil zaubert. Ob lässiger Neckholder, elegantes Wickeltop oder sexy schulterfreies Shirt – so entstehen coole Teile, die garantiert kein anderer trägt. Nicht nur für Mädels.
Generation T: 108 Ways to Transform a T-shirt  (Russian Edition)
The first foreign edition to hit shelves was this Russian copy, loosely translated as "108 Ways to Transform a Football Shirt" (apparently, T-shirt isn't a term they use!).
Generation T: Beyond Fashion: 120 New Ways to Transform a T-shirt  (Russian Edition)
Добро пожаловать, русские читатели! ("Welcome, Russian readers!") The first foreign edition of Generation T: Beyond Fashion hit shelves in 2012, in Russia. As with its predecessor, the term "T-shirt" isn't a part of the language, so the title is  loosely translated as "120 New Ways to Transform a Football Shirt" — fun!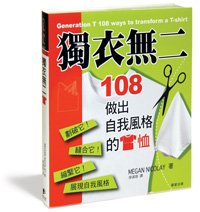 Generation T: 108 Ways to Transform a T-shirt (Complex/Traditional Chinese Edition — Taiwan)
There are two Chinese versions for two different markets (see right and below, right). This one, translated into what's called "Complex" or "Traditional Chinese" (made up of more involved symbols), is marketed in Taiwan and published by Morning Star.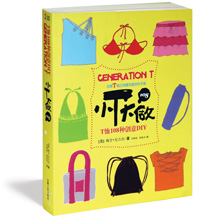 Generation T: 108 Ways to Transform a T-shirt (Simplified Chinese Edition — Mainland China)
Simplified Chinese, made by decreasing the number of strokes need to create many of the characters, was introduced in mainland China in the 1950s and 60s (to promote literacy). This edition of Generation T, published by Shanghai Interzone,  is a delightful visual departure from the look of the other books. Megan's illustrations from the interiors grace the cover in vibrant full color!