Join Megan Nicolay, eco-fashionista and author of the bestselling books Generation T: 108 Ways to Transform a T-shirt and Generation T: Beyond Fashion: 120 New Ways to Transform a T-shirt, for a crafty Tee Party on Thursday, March 8, from 6:30 to 8:30 p.m. at the Cook Memorial Library in Tamworth, New Hampshire.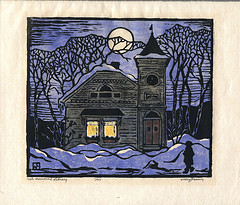 She'll be in town for an artist's residency at the Brett School from March 6 to 9, which will be a private program for students in grades 6 through 8 at the school (local home schooled students are also welcome) — but the event on Thursday is open to all members of the community! Megan will demonstrate clothing redesign techniques and projects from her newest book, and she invites participants to bring an old T-shirt or two from the back of their closets to join in the fun — scissors will be provided. Learn dozens of ways to breathe new life into that wardrobe essential: the classic T-shirt.
Cook Memorial Library
93 Main Street
Tamworth, NH 03886
(603)323-8510
Woodcut of Cook Memorial Library by Willey Fromm.