They're sure doing more than hanging mistletoe around iLoveToCreate studios. The company I blog for once a month (check out my recent holiday T-shirt project) is celebrating the season with a pretty sweet giveaway!  You can enter to win an Apple iPad — you know, one of those well-designed electronic tablets on which to read all your favorite inspiration sites and blogs all year long — you know, like (ahem) ilovetocreate.com or generation-t.com. Details below…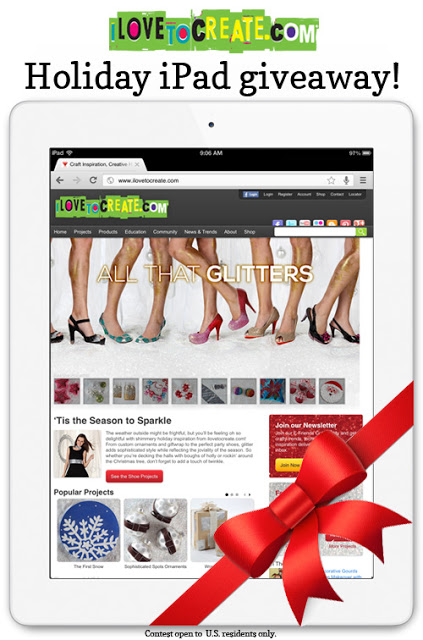 1 Lucky Winner will win:
Apple iPad Wi-Fi 16 GB – 3rd generation
Pick up the iPad and suddenly, it's clear. You're actually touching
your photos, reading a book, playing the piano. Nothing comes between
you and what you love. To make that hands-on experience even better,
they made the fundamental elements of iPad better – the display, the
camera, the wireless connection. All of which makes the third-generation
iPad capable of so much more than you ever imagined. Everything you do
with iPad, you do through its large, beautiful display. And when the
display is better, the entire iPad experience is better. The Retina
display on the iPad features a 2048-by-1536 resolution, 44-percent
greater color saturation, and an astounding 3.1-million pixels – in the
same 9.7-inch space. That's four times the number of pixels in iPad and a
million more than an HDTV. Those pixels are so close together, your
eyes can't discern individual ones at a normal viewing distance. When
you can't see the pixels, you see the whole picture. Or article. Or
game. In ways you never could before.
Product Features
9.7 Retina Display; 2048 x 1536 Resolution
Apple iOS 5; Dual-Core A5X Chip with Quad-Core Graphics
5 Megapixel iSight Camera; 1080p Video Recording
Wi-Fi (802.11a/b/g/n); 16 GB Capacity: 1 x Headphones – Mini-phone
stereo 3.5 mm, 1 x Docking / port replicator – 30-pin dock connector
Up to 10 Hours of Battery Life; 1.44 lbs
Giveaway ends December 31st at 11:59pm, open to US residents only, ages 18+. See Rafflecopter's Terms and Conditions to enter please use the Rafflecopter form below. Good luck!
Tags: #winanipad, Apple iPad, holiday giveaway, iLoveToCreate, iPad giveaway, raffle
[ Posted on December 5th, 2012 ]