We're comfortably into December now and many of the holiday countdowns are upon us. Between these great roundups at WhipUp and Threadbanger, the advent airwaves are crowded…but let's not forget our fair T-shirt. (Never!)
I made the Final Countdown pocket calendar (project #35 in Generation T: Beyond Fashion) using 1 large T-shirt as the base (cut off the bottom of the T-shirt just below the sleeves, then up the side to make a large rectangle), several T-shirt pockets (or you can cut and stitch on your own from sleeves and other scraps), and iron-on letters to personalize it. I ran a drawstring through the hem (now oriented at the top) to tie it at each end–or you can simply use tacks to pin it to the wall.
Despite its name, this DIY project can be used again and again and again–and again!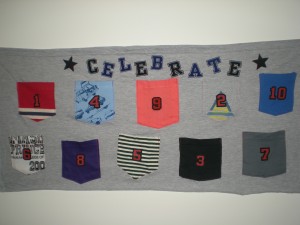 In fact, this one can be used for every event around the year. Celebrate the eight nights of Hanukkah, the twelve days of Christmas, or the countdown to your VIP's next birthday, an anniversary, or your own graduation. Fill it with candy, cookies, gift cards, handmade coupons, knick knacks, paper fortunes, or other party favors.
But to kick off some serious fun, we're giving away Generation T surprises in celebration of the "Ten Days of Solstice." There happen to be 10 pockets in this countdown calendar, so this season Generation T is excited to count down to the day of the maximum tilt of the Earth's equator! Exciting.
Starting today, you can enter to win one of the ten Generation T items shown here. The first winner will be announced tomorrow, December 12, and new surprise will be given away each day until Monday, December 21.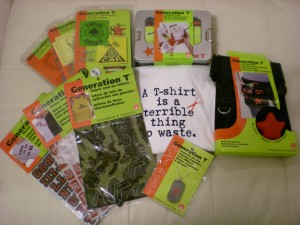 Each pocket on the Final Countdown calendar represents a surprise gift that I'm raffling off daily. (Mr. T mixed them all up, so even I don't know "what's behind door number 1.")
Here's what happens:
1. To enter to win the prize in pocket #10, email me (megan @ generation-t.com) during the day today (December 11) until midnight (Eastern Standard Time), with the subject line "My DIY High" and one sentence about what gives you the DIY high. Don't forget to include your mailing address so I can send you the prize if you win!
2. Your email qualifies you for the daily raffle to win what's in pocket #10.
3. When the clock strikes midnight (EST), entries are closed for that day. I will  select a winner at random and announce that winner the following morning. I will also announce the new prompt (subject line/email) needed to enter to win the next daily prize (again, entries will be accepted until midnight, EST).
YOU CAN ENTER EVERY DAY! Any questions, leave them in the comments…
[ Posted on December 11th, 2009 ]