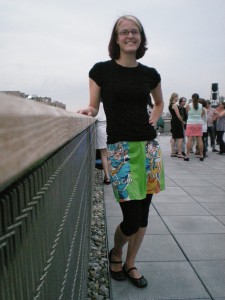 Tiffany Threadgould (aka Tiffany Tomato) of RePlayground was rocking this awesome skirt a couple of weeks ago at a get-together of local makers eagerly anticipating the inaugural New York City World Maker Faire. Don't forget, Maker Faire is coming this weekend (September 25 and 26) to the NY Hall of Science! If you're in the area, it's a must-experience extravaganza of DIY technology, craft, and innovation. Tiffany will be there with RePlayground making, as she says, "stuff from other stuff." A committed upcycler, Tiffany loves to make beautiful and useful things from garbage!
Which brings us back to that cute skirt. Tiffany made it (and this!) using vertical panels cut from scavenged T-shirts. For a similar look, check out the "Road Trip" skirt in Generation T (project #64, page 164).
Hope to see you wandering the byways and drooling along truck food lane at Maker Faire this weekend. And don't forget to stop by the Workman "Camp Make" booth for some Generation T style T-shirt lovin'.
Stay tuned: A more detailed Maker Faire schedule to come later this week!
[ Posted on September 22nd, 2010 ]