I'm a huge advocate for giving handmade gifts, but there's always the time issue–so many gifts to give, so little time to make them! So if you're not sure you'll have time to make that perfect something, might I suggest this as the perfect gift for a friend: a DIY T-shirt starter kit. You can easily assemble the pieces in no time with an old T-shirt playing the role of both wrapping paper and gift component. Here's how:
1. Start with a clean old T-shirt (perhaps one that reminds you of a shared fun time with the recipient!), and lay it face down on your work surface. Place a copy of Generation T or Generation T: Beyond Fashion (or, dare I say, both!), centered, about 6″ to 8″ (depending on the size of the T-shirt) up from the bottom.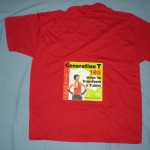 2. Wrap the book(s) carefully in the T-shirt, by first folding the bottom of shirt up over the bottom of the book(s).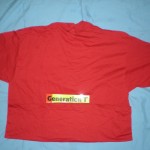 3. Fold the left side of the T-shirt and T-shirt sleeve over the book(s).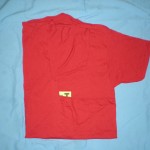 4. Then fold the right side of the T-shirt sleeve over to the left. Accordion-fold the sleeve back if needed so it doesn't overlap the edge.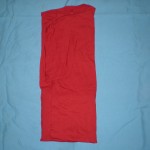 5. Fold the wrapped book(s) up against the folded sleeves.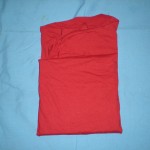 6. Fold the top back of the neckband down over the book package (revealing the T-shirt tag).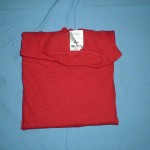 7. Flip the package over to reveal the front logo or pattern on the T-shirt.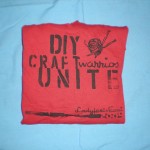 8. Grab a piece of scrap fabric from an old T-shirt hem to use as gift ribbon. Wind the ribbon around the T-shirt to keep the "gift wrap" in place. (Optional: Use some safety pins if you'd like to make it more secure.) Optional: Get a pair of sharp scissors and tie or slip them under the ribbon.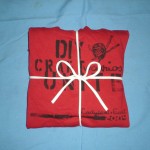 9. It's everything your gift recipient needs to dig in right away — what are you waiting for, give it to someone already!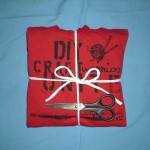 [ Posted on December 18th, 2009 ]