As you longtime readers know, sometimes I trade in my sewing room for some kitchen crafting. One recent weekend, I did just that, to make homemade teething biscuits for little Baby T (aka Niko). You heard me say teething, right? Hehehe. (Okay, I'll use my T-shirt cookie cutter next time, for a better tie-in.) I very barely modified the recipe from Imprintalish (as you can see, I liked her idea of using a heart-shaped cookie cutter, and added some more geometric shapes to the mix!), then of course quadrupled the recipe to make enough for all of Niko's pals.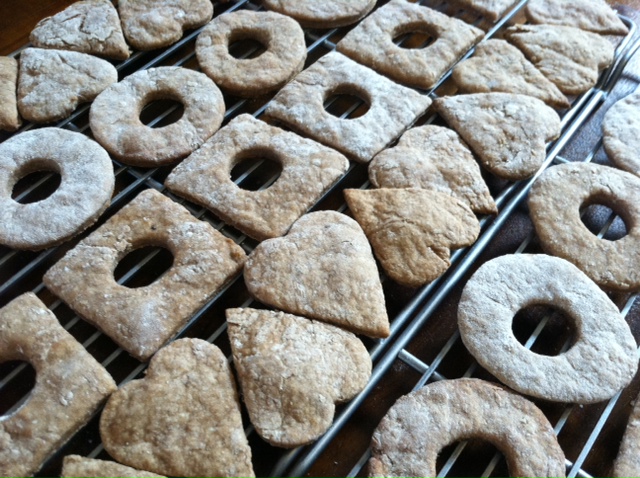 Ingredients:
1 cup all-purpose flour
1 cup dry infant rice cereal
1 ripe medium mashed banana (1/3 cup)
2 tsp cinnamon
2 tablespoons vegetable oil
6 tablespoons water (or more, to form dough)
Yields about one dozen biscuits, depending on the size and shape cookie cutters you use.
Make it:
Preheat the oven to 425ºF. In a large bowl, mix together the dry ingredients (flour, rice cereal, and cinnamon). Then add the wet ingredients (oil, banana, and water). Mix everything together until the dough forms a firm, non-sticky dough. (Lish, of Imprintalish, suggests adding water or flour, 1 tablespoon at a time, if necessary.)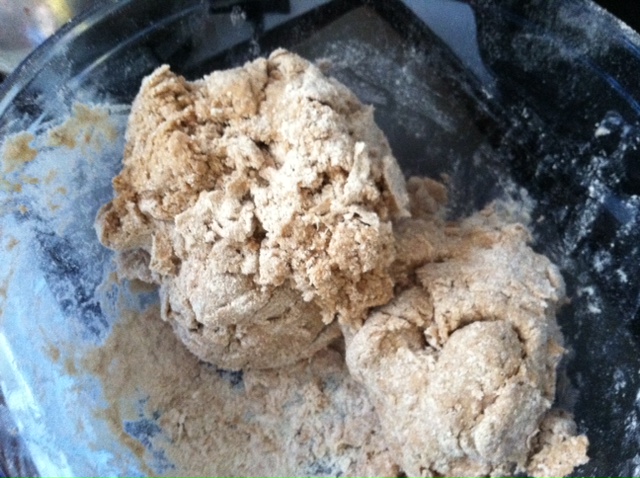 On a clean, dry, flour-dusted surface, roll out the dough so that it is approximately 1/4″ thick. Use cookie cutters to cut out the shapes.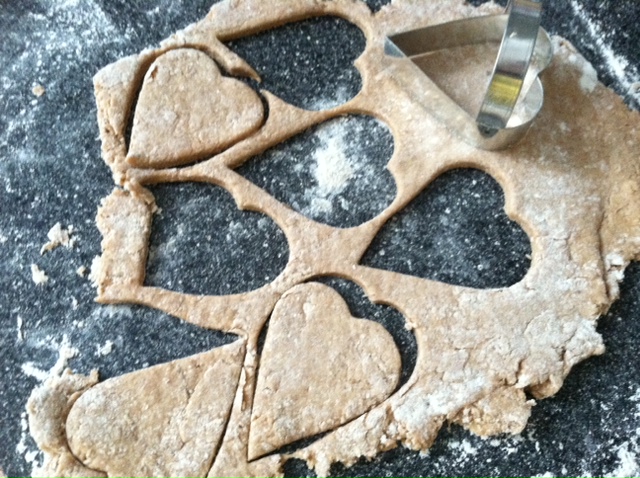 Bake it:
Line a baking sheet with parchment paper and arrange the shapes on the paper. Then bake for 10-12 minutes.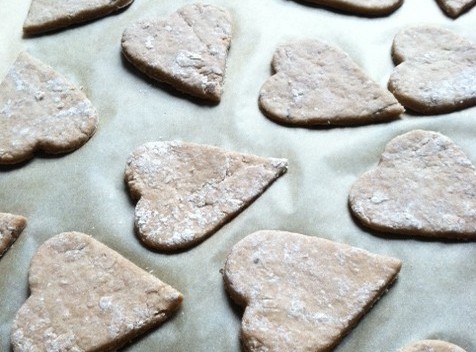 Remove the tray from the oven and use a spatula to transfer the biscuits to a cooling rack.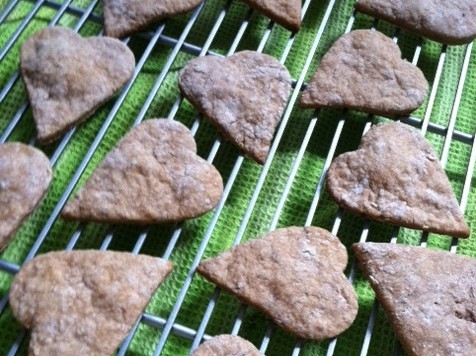 Taste it:
Test them out on a baby or two! Here are Niko and some of his friends gnawing on the heart- and doughnut-shaped biscuits. (The doughnut shapes seemed to be the most popular — since they're easier to grip!)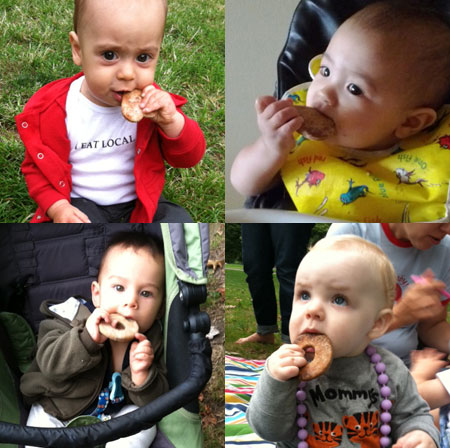 Note: Teething biscuits should only be given to babies accustomed to chewing solid foods. Children should always be seated in an upright position and supervised while eating. To determine whether your child is ready for teething biscuits, he or she should be able to crawl on hands and knees, with tummy completely off the floor; use jaws to mash food with gums; eat thicker, lumpier foods with large pieces, and hold small foods in between forefinger and thumb.
Tags: crafting in the kitchen, DIY baking, homemade teething biscuits, in the kitchen
[ Posted on October 4th, 2012 ]