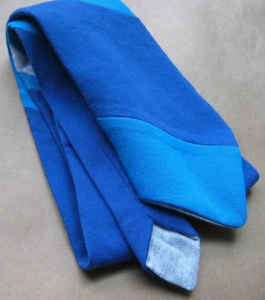 The ultimate in formal attire meets the ultimate in casual wear in this necktie/T-shirt mash-up! Well beyond the traditional "Tie T-shirt" (which will pass for office dress code as much as the T-shirt Tux is appropriate for a wedding), how about a T-shirt tie?
Enter Etsy seller SupperClub (aka Lily Rothman), who makes one-of-a-kind neckties  from old T-shirts (and other vintage or recycled materials). There's an Oxford tie for the recent grad. A Notre Dame tie to wear to the next big game. Or, mail Supperclub a T-shirt from your own closet, and she'll transform it for you into a totally dynamite gift for dad/brother/boyfriend. (And hey, let's face it, that tie T-shirt isn't going to get you past the door at a swanky restaurant, but a jersey knit tie might do the trick.)
Scour your closet (or his closet, perhaps) for T-shirt announcing his favorite team, his alma mater, the best rock band of all time (by his estimates), or the time he took home a medal (along with every participant) in the annual Thanksgiving Turkey Trot fun run last year.
Of course, if you're feeling a bit stitchy and want to do-it-yourself, try experimenting with the tie pattern from Diana Rupp's sewing and pattern book, S.E.W.: Sew Everything Workshop.
Oh, and did we mention Supperclub has a bow tie option, too? But of course. Don't forget, Father's Day is coming June 20…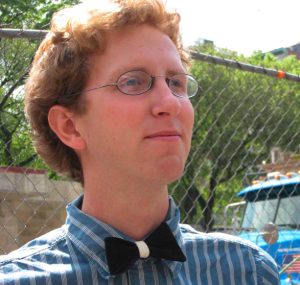 (All photos courtesy of SupperClub.)
[ Posted on May 3rd, 2010 ]