Remember the book review I did for Stencil 101? Well, I was fascinated by the idea of stenciling on food (yummy and pretty!), so I decided to try it for my book launch at the B&N in Park Slope recently. I'm a huge fan of all of Ed Roth's stencils, but I particularly love the scissors stencil in the book, and thought it'd be perfect to decorate the batch of brownies I planned on making for my DIY Tee Party. Seeing as scissors (neck-and-neck with seam rippers) are my favorite de/reconstructing tool, it was only right  to feature them! Here's what I did, along with some photo-documentation:
1. Tear the scissors stencil page from the book (it's perforated) and trace it with a pencil on a piece of parchment paper. 2. Use a craft knife to cut around the traced marks until the parchment paper stencil matches the original.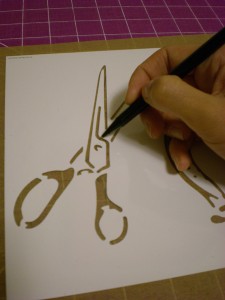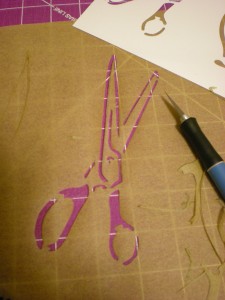 3. Place the new (food-safe) stencil over the top of the frosted cake (or brownies). Note: Frosting is recommended because it will hold the powder better (cocoa powder for light-colored frosting, confectioner's sugar for dark-colored frosting) than a plain cake surface. 4. Gently and evenly powder the cake surface, going over the stencil.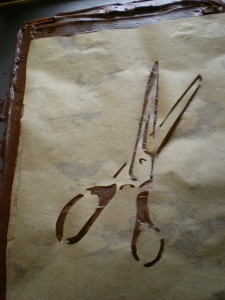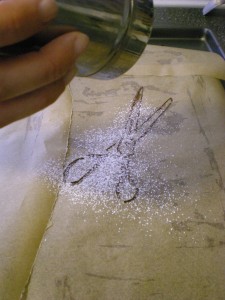 5. Peel back the parchment paper, careful not to spill the sugar collected on the stencil. 6. Ta-da! Serve it up to all your DIY besties!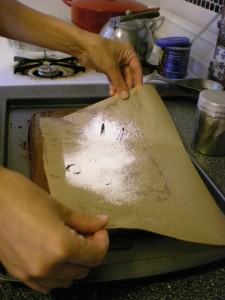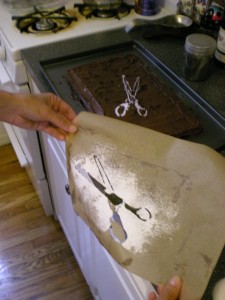 **Thanks again to Ed Roth of Stencil 1 for this great idea from his book Stencil 101. And stay tuned! He's got a new book, Stencil 101 Decor, featuring 10 original plastic stencils (the first book has cardboard), due out in October 2009.
[ Posted on June 19th, 2009 ]