Add another 8 T-shirt projects to the hundreds of Generation T projects you've already got in your arsenal! This slide show collection includes projects from DollarStoreCrafts, Makezine, SuperNaturale, and more–courtesy of Care2's Becky Striepe. Make's T-shirt laptop cozy is shown here–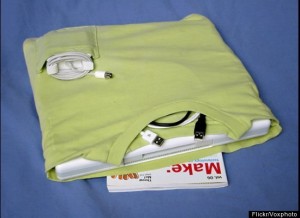 plus a pillow, a quilt, a skirt, a necklace, a grocery tote, an appliqué, and…a pair of T-shirt undies!
And, 8 must be the hot little number because here are another "8 Ways to Recycle that Old T-shirt" posted by Valley News Live (list by Raquel Fagan; provided by Earth911).
Tags: reuse a T-shirt, T-shirt applique, T-shirt bag, T-shirt grocery tote, T-shirt laptop cozy, T-shirt necklace, T-shirt pillow, T-shirt quilt, T-shirt refashion, T-shirt skirt, T-shirt surgery, T-shirt underwear, Transform a T-shirt
[ Posted on December 29th, 2010 ]