Happy Earth Day, friends! I like to think of Earth Day as being a year-round occasion over here at Generation T, and then when April 22 rolls around, it's like prom–a touch more excitement in the air, everybody's on their best behavior, and maybe there's a DJ–because, hey, why not? Earth Day should totally have a soundtrack.
So, it was raining last night in Brooklyn. And while April showers bring the living, breathing flowers that poke through the soft ground in May,  April rain also encourages a different sort of flower: the kind that comes from a rainy evening or weekend inside, when you're cozied up crocheting or knitting or stitching or cutting and gluing. This is when various non-wilting flowers are born.
So amidst the sometimes dreary days in April, Generation T is celebrating flowers and the spring rains that inspire all sorts of beauty to pop up! Here's the first of four flower tutorials for you to try.
Let's start, appropriately, with small buds–Nip It In the Bud is project #90 in Generation T: 108 Ways to Transform a T-shirt. Here it is, for you: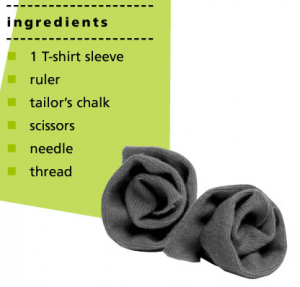 [ Posted on April 22nd, 2010 ]