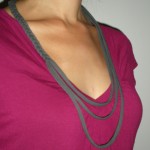 I've been on the road so much that I haven't had time to post many new projects, but because a number of people commented on the necklace I was wearing the night of the kick-off Brooklyn event back in June, I thought I'd burn some midnight oil and write a tutorial for you all. Made from a few T-shirt scraps, this one gets the "Green Tee" label for being especially eco-conscious. It was inspired by a sterling silver chain that the stylist's assistant wore the first time I met her before the photo shoot for Generation T: Beyond Fashion. It's lightweight, easy to make, and quite stylish (my sister liked the first necklace I made so much that she stole it off my neck that night!). Here's how you can make your own.
Ingredients:
3 T-shirt strips (about 1″ wide) cut from the bottom hem of a T-shirt
scissors
safety pin
needle
thread
1. Collect or cut three 1″-wide strips from the bottom of a T-shirt. Stretch out the strips to make long cords. Optional: Collect scraps from different T-shirts for a multi-colored look.
2. Tie the ends in an overhand knot about 1 1/2″ to 2″ from the top.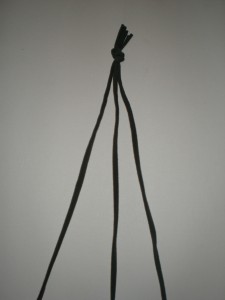 3. Starting at the knot, braid the three strands together until you have an approximately 12″-long braid. Pinch the end of the braid together (or use a safety pin).
4. Then sew a few stitches through the end of the braid, making sure to go through each of the strands at least once. Knot and trim the thread.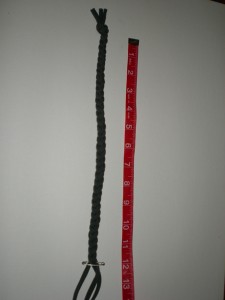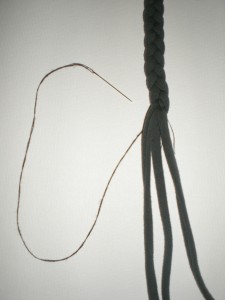 5. Drape the ends of your necklace strands and then trim them so that each strand is about 2″ shorter than the next. (These measurements will vary depending on the length of your torso, but start with the measurements 27 1/2″, 25″, and 23″ and you can always trim more.)
6. Line up the ends and gather them together. Loosen the knot at the end of the braid and insert the ends, then tighten to secure them .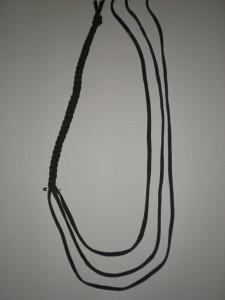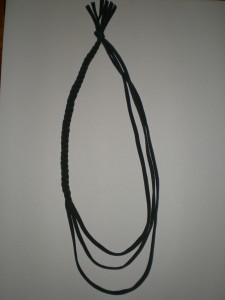 7. Try on the necklace, arranging the knot so it sits at the back of your neck. Ta-da!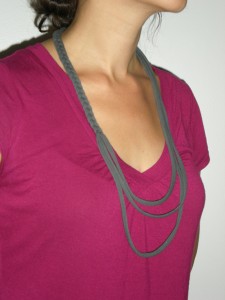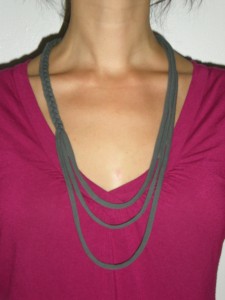 [ Posted on August 21st, 2009 ]