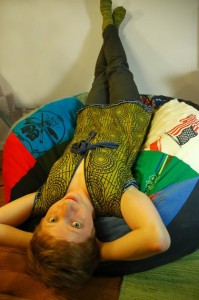 You have T-shirts transformed into throw pillows, T-shirts into rugs, T-shirts into a quilt for the bed, a tablecloth and napkins for the table–you've got every item to furnish a room except for a chair! (And maybe the dresser, but that's for a future challenge.)
Thanks to Becky Stern at Craft (right, photo by Nathan Rosenquist) and Tiffany Threadgould of RePlayground (with inspiration from Instructables user Seamster) you need look no further! Gather up the materials and follow the video tutorial below with Becky and Tiffany to learn how to make it!
Materials and tools:
old T-shirts (about 12-18)
scissors
pattern paper
ruler
protractor
pencil/pen
marking chalk
sewing machine
thread
utility knife or serrated bread knife
cutting mat
upholstery foam (scrapped from trash furniture, an old mattress, or leftover from another project)
straight pins
hand sewing needle
Pillow Chair from Old T-Shirts – CRAFT Video from make magazine on Vimeo.
Let us know how it goes! AND, for a smaller pet version, gather up 4 large T-shirts and check out project #68 "T-shirt's Pet" in Generation T: Beyond Fashion to make this lovely cushion for your furry best friend: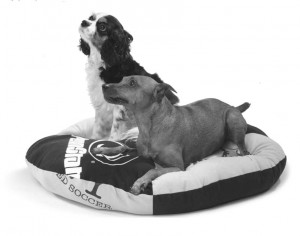 Photo courtesy
Workman Publishing Co.
[ Posted on May 11th, 2010 ]