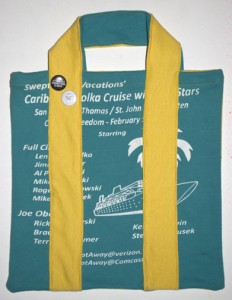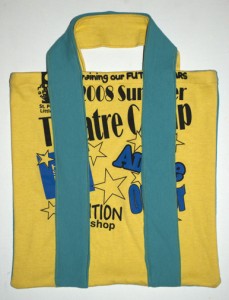 Warm wishes for a cozy Christmas and congratulations to Dia, who will be receiving the Rock the Tote tote bag (project #84 in Generation T: 108 Ways to Transform a T-shirt) pictured here as her Christmas surprise!
I made it using a turquoise blue "Caribbean Polka Cruise with the Stars" T-shirt and a bright yellow "2008 Theatre Camp" T-shirt that I found in a Florida thrift shop earlier this year! After stitching it up, I added two punk pins I made — because even bags need accessories.
How inspiring to hear all of you sound off on everything you've been busy making — I especially like to hear that so many of you have been using crafting or baking as a reason to spend more time with family and friends. Because as often as DIY can be a solitary activity, I love to craft with fam and friends, too (when I'm not crafting for them, of course!). I took a cookie baking class recently with my friend (no photos — everything was gobbled up too quickly!), I attended a chocolate truffle-making class with my husband last week — the results of which we're sharing with his family today, and I'm sitting down with my niece to construct a batch of "Cheeseburger" cookies this afternoon. (I expect the sugar high to last through the New Year!)
So, I still have a few projects I'll share after all the presents have been unwrapped on this end, but in the meantime, visions of your craftivities dance in my head: lots of T-shirt aprons, felted goodies, knitted dishcloths, ornaments, wreaths made from old Christmas trees, a pair of crime-fighting wrist cuffs with lightning bolts on them, scarves, gloves, cereal box wallets, fused plastic bag crafts, Kindle cozies, sculpted animal figurines, photo ornaments, baby hats, jam, hand lotion, pet toys, soap…and more! Oh, and let's not forget all the baking, too: muffins, pumpkin gingerbread, macaroons, banana bread, rum cake, chocolate truffles, loads and loads of cookies, oh my!
Happy, happy Christmas, and to all a good year ahead!