Last week, I posted a tutorial for making a statement necklace using T-shirt scraps. This week, we're making a necklace using the scraps leftover from that necklace. It's worth keeping in mind that you can construct and wear this necklace in about two minutes — seriously! Now that is a statement.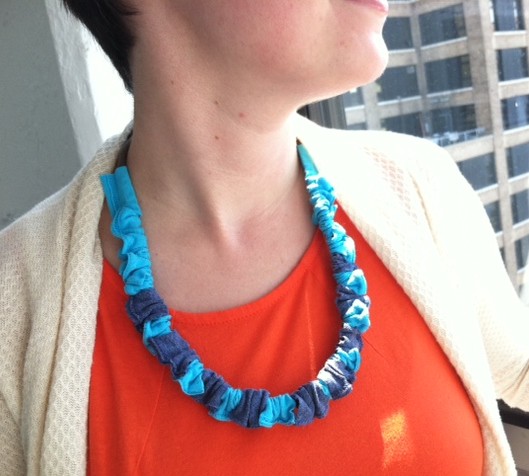 Materials:
-Scrap hems (or scrap sleeve seams) from 2-3 T-shirts
-Safety pin or paperclip
-Fabric scissors
Make it:
1. Trim the stitching off one of the T-shirt hems and stretch it out to create a long T-shirt cord. Attach a safety pin (all I had on hand was a paperclip, which worked fine!) to one end. Collect all the hem pieces left over from cutting the rectangles needed to make the T-shirt Confetti Necklace (a byproduct of step 1, the hem pieces should be about 1 1/2″ long, with the stitching still in place). There should be a hollow space through the center, making it, essentially, a soft bead.

2. Thread the T-shirt cord through the T-shirt beads, arranging them in any desired pattern.

3. Rotate the beads so the stitching appears on the "outside" of the necklace and scrunch them together, creating a ruffled look. Then tie the two ends of the T-shirt cord in a bow at the desired length at the back of your neck.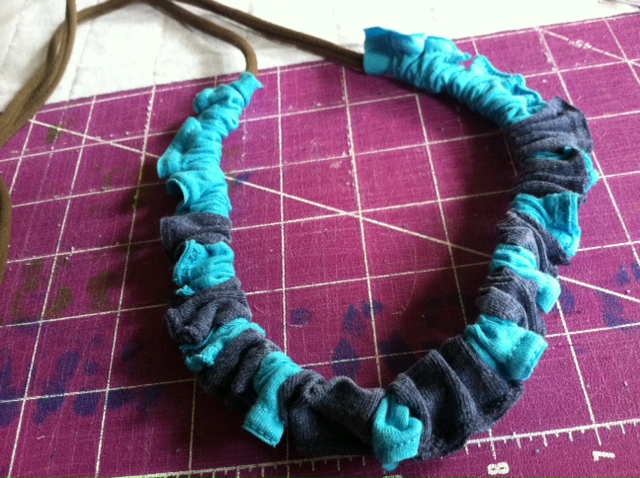 Ta-da! Almost exciting as fireworks. Happy 4th, everybody!