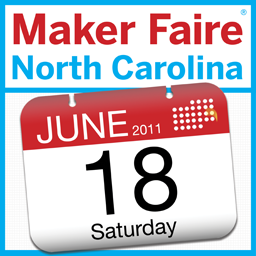 You know how much we love Maker Faires, so though Megan Nicolay is only able to be there in spirit for this one, Generation T will be there in the flesh…err, paper pulp…err, the crafty minds and nimble fingers of crafty readers Janet Kennedy and Kelly Farrow. This Saturday (June 18, 2011) Janet and Kelly and their team of intrepid recyclers will be using inspiration from Megan's books, Generation T and Generation T: Beyond Fashion as they demonstrate how to take an ordinary T-shirt and re-purpose it into a T-shirt (or tank top, or pillow, or…) with style and flair! They'll bring a box of tossed out T-shirts so that visitors may do their own "re-make & take" on the spot for $5. Proceeds of the creativity sale will benefit nonprofit organizations supported by 5 Bucks is Change. Most projects will be no-sew, but Kelly's bringing her machine, so some light sewing will take place–brace yourselves!

If you're in the area, please stop by the Tee Party to say hello to to Janet and Kelly and do some tee-cycling!–and pick up a free Generation T project card while you're at it.
Maker Faire NC 2011
NC State Fairgrounds
Gov. Kerr Scott building
1025 Blue Ridge Blvd.
Raleigh, NC 27607
The event happens this Saturday June 18, 2011 from 10 am to 5 pm. Entry: Adults $4, Kids $2, Under 6 Free!