A tale of three sisters… Juno, Rosy, and Jasmine are three magnificent and creative sisters who I've known since my youthful days in New Hampshire. They recently played pivotal roles in a very special DIY project for Rosy, who got married last month in Paris. Here is a brief time line of the crafty wonderland, executed over an incredible number of modern social media platforms!
December 30, 2010 from Jasmine, via Twitter, via Skype: Megan, I just Skyped with Rosy and she showed me the T-shirts her friend Kit printed on that Juno will turn into a wedding dress for her.
My interest was piqued as I immediately tweeted back for more information! Eventually, I connected with Juno after she heard that I'd be in town to teach T-shirt workshops, when I can potentially catch a glimpse of the work in progress…

March 7, 2011 from Juno, via Facebook: How long will you be up here for this weekend? I've made Rosy a crazy art wedding dress with block prints by a friend of hers from your pattern—would love to cross paths with you and take a picture of you in it if the timing worked.
And Juno finished the gown (Tying the Knot, project #108 in Generation T; 108 Ways to Transform a T-shirt), and the timing worked, and I tried on the dress at the yoga barn before our yoga class, and we took some pictures! Then, we fast forward to after the wedding…
May 12, 2011 from Juno, via email: Sorry it's taken me so long to get the wedding dress post up. The dress was fabulous—Rosy loved it and felt it was entirely her. The whole process made me excited to sew more and learn to make some easy clothes.
Oh, happy day! Now let's take  look at that process. Here are some of Juno's alternate versions for the bodice: the All Strung Out tank top, project #88 plus a combination of All Strung Out and the Shoulder Chic tank top, project #15. For more pictures of the whole process of acquiring the hand-printed shirts, cutting and sewing up the skirt, and the whole grand affair, visit Juno's blog, Try This at Home…
Here are some pictures of Jasmine trying on the dress and the different dress tops! The top she's wearing below right is the top that is paired with the wedding skirt in the book, but in a different print than the one I tried on — Juno really had all her bases covered!
And here, at last, are some totally dreamy photos of the beautiful bride, Rosy! She chose, in the end, to wear the All Strung Out tank top as the top of her gown. Doesn't she look stunning?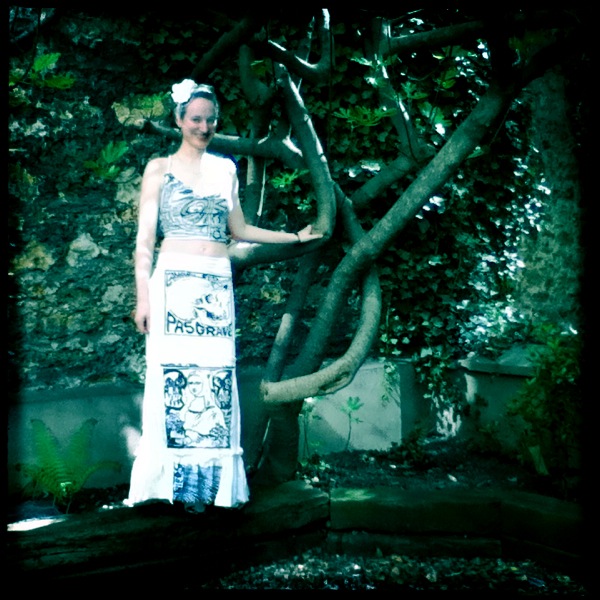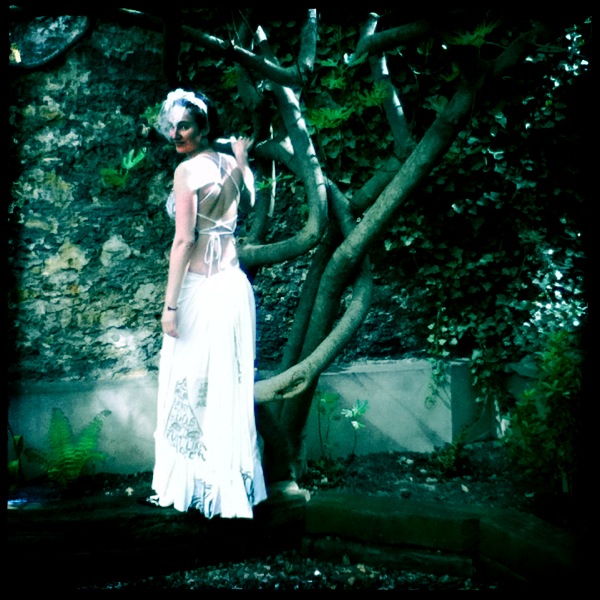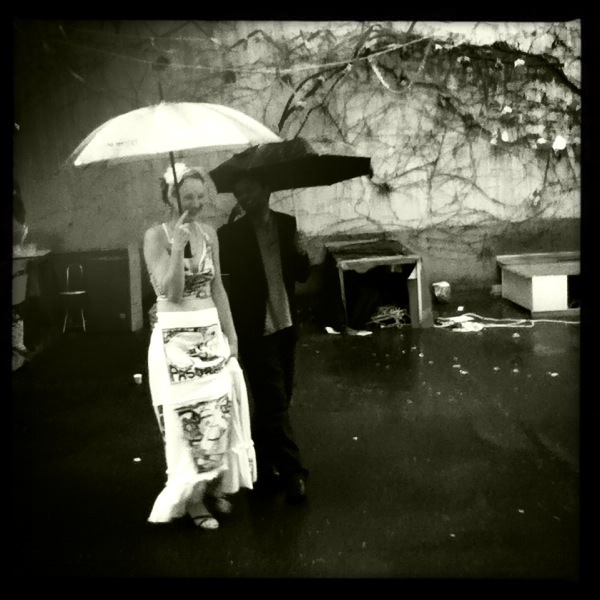 Congratulations to all involved in the beautiful project! (And thanks to Juno, for letting me play a minor role in it all!)
All photos courtesy of Juno Lamb at Try This at Home.