After Thanksgiving dinner with my in-laws, we all settled into the living room for some Wii karaoke and Wii dance party, and I, in my 8-months-pregnant state, settled into an armchair to work on an embroidery project I was trying to finish before the little guy arrived. It wasn't long after I sat down that my young niece snuggled in next to me and asked, "Aunt Megan, can I do what you're doing?" Though I wasn't quite ready to pass my project into the hands of a 5-year-old, I did have a spare needle, plenty of floss, and was more than happy to share my hoop. (I was also rather giddy that she had taken such an interest in what I was doing!) I suggested that we ask her grandfather whether he had a fabric scrap she could work on (he used to work in the interior decorating business and always seemed to have plenty of spare yardage), and sure enough he came back from the garage having clipped a corner of textured, shiny, sea foam green upholstery fabric for her to work on.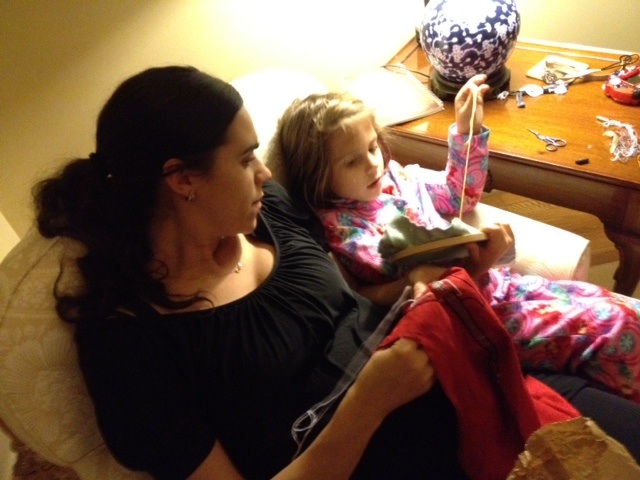 I helped her sandwich it in between the rings of the hoop, let her choose a color, and threaded the spare needle. And she started stitching…and stitching…and stitching! Long stitches and short stitches, cross stitches and straight stitches — only pausing for me to tie off an end and change the thread color under her creative direction. I asked her what she was making. "Oh! This is a mini-blanket for the baby. For him to snuggle with…." she replied. We talked about me helping her make a back to the mini-blanket and finishing the edges when she was ready.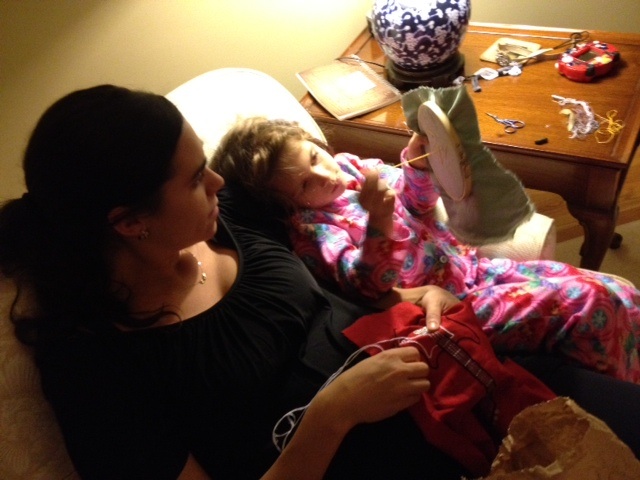 Below, the young seamstress at work — she never once made the freshman mistake of stitching around the hoop, rather than just up and down through the fabric. (I was impressed. I don't think I can say the same for my first embroidery experience!) The next morning, she declared herself finished with that piece of fabric, handed it off for me to take home to Brooklyn to finish, and started work on a black and white gingham pattern which allowed her to practice making short, even stitches by following the pattern on the fabric.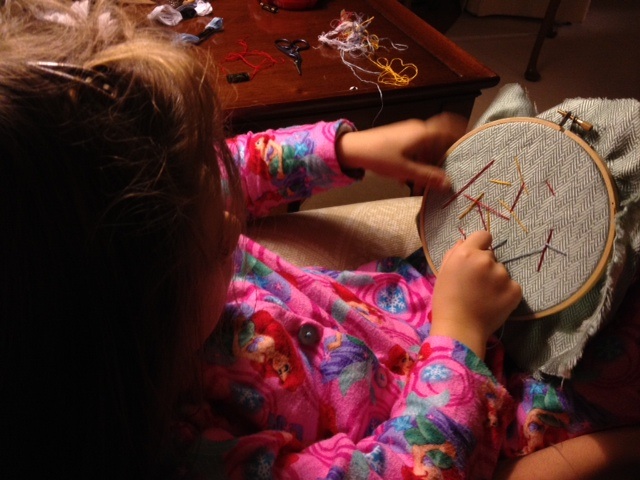 Fast forward to the day after Christmas — the little guy had arrived, and my niece was in New York to meet her new baby cousin. She asked if we could sew again. I reminded her that we needed to choose a back panel for the mini-blanket! So we sat down with my fabric stash in the Generation T workroom and flipped through scraps until she spotted the black and white flame fabric  — I had purchased it several years ago in Portland, Oregon (to make a quilted throw pillow for Mr. T — back before he was Mr. T) while I was on book tour for Generation T. I also used it as the backing fabric for the electric bass, so there's definitely a theme! We cut a swatch, threaded a needle, and she began tracing the flames with embroidery floss.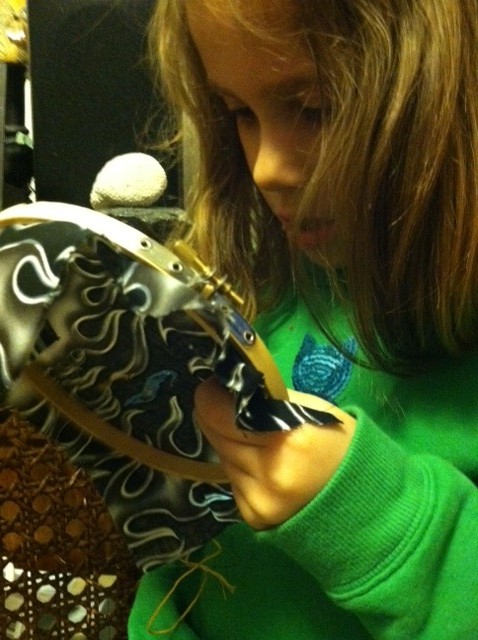 When she left, I embroidered her initials on her work, pinned the pieces together and used some scrap muslin to edge the mini-blanket. I also added the loop, which yes I recognize makes it look a little like a potholder, but also allows me to tether it to the stroller!
And no complaints from this little guy about his new handmade mini-blankie! He loves to snuggle with it and grip the edges tightly.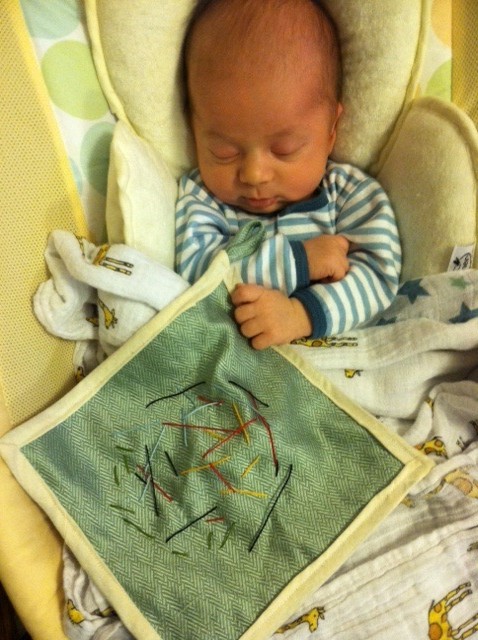 I can't wait until the next project my niece and I make together! And here's to the next generation of DIYers — I can't wait till this little guy is gripping some scissors in his little hands, too!
Tags: baby gifts, crafting with kids, crafting with scraps, embroidery, mini-blanket
[ Posted on January 30th, 2012 ]