Happy Earth Day, friends! Today's "from our readers" feature introduces Brenda, a Canadian expat living it up in Mexico and slashing up old T-shirts whenever she can.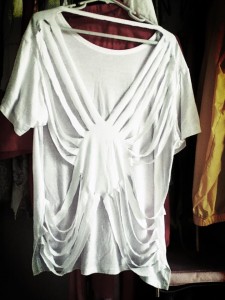 She asked me a question over Twitter awhile ago, and I was just too slow in answering (I do so understand when the scissors start getting a little twitchy, and one needs to forge on!), so Brenda, resourceful lady that she is, found a design on the Internets to help fulfill her vision (if anyone knows the source, let me know so I can properly link it! UPDATE: Properly linked to the source shirt!). See the result of Brenda's T-shirt snipping (white T-shirt, left).
And this one (green T-shirt, right), inspired by the butterfly variation on the slashed "Brokenhearted Tee" (project #2 in Generation T: 108 Ways to Transform a T-shirt):
Happy Earth Day to all! What sweet T-shirt hacks are on your creative calendar? What are you making next?